Have you ever said you wished for something even though you knew it wouldn't come true? You know, like, "I wish I had a million dollars" or "I wish I could get Pacey Witter to marry me."
So when I said to my mom, "I wish I could be with you for Christmas" I was just voicing my loneliness and homesickness. The prospect of Christmas alone was rather depressing. I know a lot of friends invited me to spend Christmas with them (and I sincerely appreciated it!), but there's nothing like family during the holidays.
However, my sister -- who is thrifty and economical (the opposite of me) -- offered to pay for my plane fare from the Philippines to the States. I felt a burst of hope, which I quickly suppressed. After all, what was the point of making the trip if I could stay only a couple of weeks?
Then I got a call from Mom. She asked, "How soon can you leave?"
"AAAUUUGHHHHHHHH!!!!!!! YYYYYYEEEEEEESSSSSSSSSS!!!!!!!!!!!" I was jumping up and down from excitement and screaming.
I'd only have a few weeks, but those few weeks would be totally wonderful.

The following paragraphs are based on the e-mails I sent to my boyfriend at the time.
December 23, 1999
I did a mad rush shopping for presents. It was soooo crowded at the mall. I had to buy stuff for my little cousins when I found out they already got me things. I had to find a balance between thoughtful and economical (a.k.a. CHEAP!!!). It's a good thing I earned that $35 from doing Auntie Toto's ironing. Spent it all on gifts.
I split the cost with my sis to get Mom and Dad a picture frame (how boring), Barbie for Nessa, a Pokemon poster for Cliff, and a Pokemon light-up key chain for Elton. (The Pokemon craze is unbelievable. Get a kid anything to do with Pokemon, and he or she will be ecstatic!)
My gift to Auntie Toto and Uncle Edward is the most creative, though -- a certificate that entitles them to 3 hours of ironing service by yours truly -- free of charge, of course. Must be availed of by the 5th of January 2000.
Would you believe we don't have a tree? How untraditional and unsentimental. I guess we're all too lazy to get the tree from the top of the garage and set it up and everything. I guess we'll just have to borrow someone's tree. Edalynn's is nice -- all decorated in silver.
You know, talk of the coming millennium scares me sometimes. It makes me want to experience things now, not in the uncertain future. I'm selfish, I know. Greedy too. I can't have all the things I want, but it doesn't keep me from wishing.
Everyone's asleep already. It's one in the morning and we're at Edalynn's house. Sleeping over coz we needed time, space, and privacy to work on our gift wrapping. Plus, it was too much of a hassle to go back home. It was late after we got back from Del Amo mall.
Christmas Eve, December 24, 1999
We did some more last minute shopping. I got my sis an angel shirt from Discount Center. She and I bought Edalynn a 98 degrees video at Target. At Kidz City, I bought Yan-Yan a Pokemon T-shirt. Then I found some sleeveless millennium shirts perfect for Ve, Grace, and Jen. At the $5 Store, I found them earrings and change purses. How exhausting!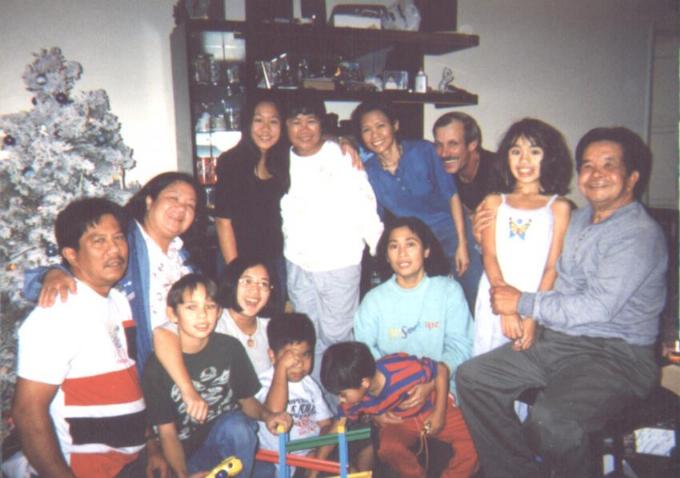 The picture was taken at Cliff and Nessa's house, where we celebrated Christmas. I don't have an e-mail to refer to, so I'll just rely on my memory. I remember eating a lot (I always eat a lot!), and fighting to stay awake till midnight. After all, it's tradition to wait until midnight before opening presents. Cliff and Elton let me watch Pokemon videos with them so we wouldn't fall asleep.
Finally it was time to open presents. The best part! I can't remember everything I got but...here's a possibly incomplete list of what I received: $25 gift certificate for Victoria's Secret, $15 gift certificate for Target, a set of nail polish, and about $80 cash.
The picture above was taken by yours truly after the gift-opening. Don't I have a beautiful family? (Yes, all relatives are family.) Back to the e-mails:
December 26, 1999
It's the day after Christmas
and in this house,
three girls are staying
who spent all their Christmas money and certificates at the mall.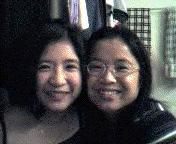 (So it doesn't rhyme -- who cares!) We went to Del Amo mall to take advantage of all the post-Christmas sales. Damn, don't you just love the words 50% off? I must have spent about $75.
New Year's Day, January 1, 2000
Ugh...my stomach's all bloated. :::groan::: Too much food. lasagna, chicken, champagne....I remember most a lot of talking, eating and loud music. We cousins stayed in Edalynn's room and watched TV most of the evening. It was the most peaceful -- well, least disruptive! -- room of the house.
We had the countdown, then toasted each other. Hugs and kisses all around. Then we all went outside for the fireworks. It was a lot like how we did it in the Philippines except that I was afraid that the firecrackers might hit the gas tanks of the parked cars along the street. And it's difficult teaching little kids the proper way to hold sparklers. But at least they were finally torn away from the Nintendo 64.
Then I sang karaoke with Erda until she and Sharif had to go home.
I wonder where Mom and Dad are right now. Mom wasn't here last night coz she had to go to work. And Dad stayed home coz he didn't want to leave the house empty. Auntie Toto's teasing us that maybe Mom and Dad are making a millennium baby, hee hee. It's already late afternoon and they haven't called or anything.
I can hear the clicking sounds of people playing mahjongg in the next room. I know the little kids are parked in front of the Nintendo 64. They're playing Smash Brothers or Donkey Kong. You know, it's humiliating to lose to a six-year-old.
January 3, 2000
It's 2 a.m. We arrived home at midnight from our outing with our cousins. Man, we had a lot of fun. Rhoel, Lloyd, Annie, and Vince picked us up in a plush rental car. Hehehe, complete with computerized locator and digital compass on the rearview mirror.
We went around the mall, played some video games (this guy whipped my ass in Marvel vs Capcom), and met up with Mark. After dinner, we had a big debate over what to do next. Movie? Bowling? We settled with video games, pool and bowling. LOL, we had so much fun. This other guy whipped my ass in Tekken Tag Tournament. He pretended like he'd never played it before. (Yeah, right.)
Bowling was cool. We waited for the disco bowling -- the pins were glow-in-the-dark and disco music was playing. The most hilarious thing was that my sister's balls kept getting stuck in the gutter. There were even four stuck at one time. Damn, my body's already starting to ache -- but it's worth it. (Mark, Vince, and I won!)
That's all I have. I wished I'd saved all my e-mails. But, as it is, I had to ask Ferdie to send me these from his address. I hope they give you a good picture of that happened during the holidays. The rest of what's written here is from my noggin.

Road Trip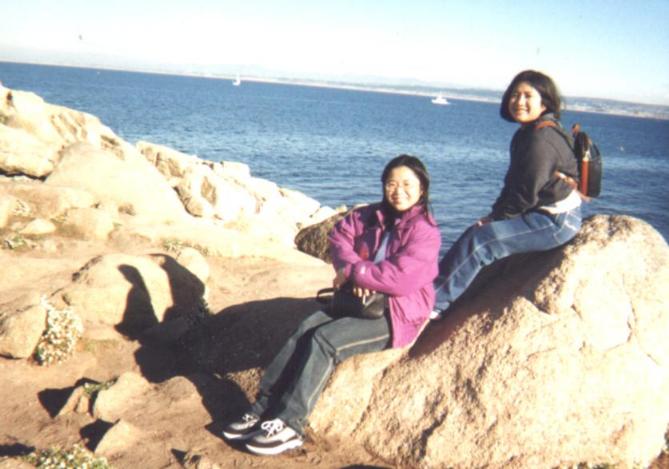 Monterey, California. This place is famous for its beaches. I think my favorite spot was the street known as Cannery Row. Nora Roberts's Dream trilogy (Daring to Dream, Holding the Dream, and Finding the Dream) is about three women who open Pretenses, a secondhand store, on Cannery Row, Monterey Bay.
I was pretty excited when I walked down Cannery Row with my sister. Although I knew the Dream Trilogy is fictional, I couldn't help hoping that I'd come across the shop. Instead, we visited a variety of shops, which sold, well, almost anything. I remember a shop, which had different kinds of tights/stockings. Another was a painting gallery. Another shop featured scented candles. And there was a candy store (I got to try S'mores for the first time!).
At one end of Cannery Row was the Monterey Bay Aquarium. We only had a few hours to spend there. It wasn't enough time! There was so much aquatic life to see. There was even a touch pool where we were allowed to gently touch some of the sea creatures. That's where we found out things don't always feel the way they look.
The picture below was taken after we had lunch at a certain restaurant in Monterey. I remember everyone -- including the waiters and waitresses -- looking out the window trying to catch a glimpse of the whales in the water.
My sis and I were then feeling adventurous so we climbed up the rocks you can see in the shot. We actually went higher up -- this photo was taken at a lower level.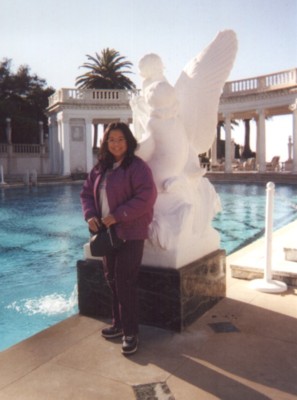 Mom then drove down Highway 101, the scenic route. It had a great view of the ocean. I know Mom would love to have ocean front property and live within walking distance of the beach. Isn't that right, Mom?
Poor Mom. She had a hard time driving the Tercel when it started getting dark. I would have taken over, but I wasn't comfortable driving with a stick shift on California roads.
We got to Hearst Castle, only to find that we'd have to come back the next morning. So we found a motel to spend the night.
The next day, my sis and I went on one of the tours. There are three tours, each featuring a different part of the castle. Since my mom and sis had visited the place before and gone on Tour 1, Sis and I decided to take Tour 2. The picture at the right is of me at what I think is called Neptune Pool. It's a beautiful place.
Hehehe, I remember we were so proud that we could say, "Hey, we used the bathroom at Hearst Castle!" I can't describe it in words. It's better shown in pictures. To see more pics, I suggest you click on the link below to try the Hearst Castle website.
If you can, visit the place yourself.