Debuts are an optional tradition. Filipinos embrace tradition, which is why many families in the Philippines choose to have one for their daughters on their daughters' 18th birthdays. That is, if they can afford it! But, if you're lucky, you can find help from family and friends to scout for deals and bargains. Who needs to hire professionals when you have talent and skills among the people you love?

Debuts range from the simple impromptu ones to the elaborate planned ones. Both have their merits. I know because I've attended both. I even attended one that was planned in a day and it was just as enjoyable as a debut that had been deliberated over for more than a year.

Although a debut is often looked upon as the presentation of a young woman to society when she turns 18 years old, I like to think of it as a special way of celebrating a special day.

My debut is still a treasured memory. It was held at Days Hotel, Iloilo City. We chose to celebrate it the Saturday right after my birthday so that the guests would be able to attend. After all, I couldn't ask my friends to cut their classes, could I?

All of us were totally dressed up and the decorations in the rooms were completely blue and white. Here's how the program went: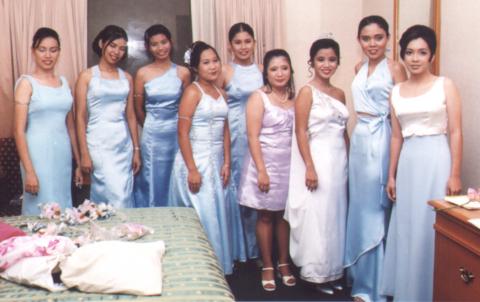 Entrance of the Debutante - The song "Pretty Woman" played. First my parents entered and then I walked in with my escort.

Welcome Address - my mom talked about what a special occasion it was with a special girl and special guests.

Invocation - by the parish priest.

Dinner - hickory pork, lasagna, Thai chicken, grilled lapu-lapu (buffet style). Background music: Kenny G.

Roasting - JP brought up all my past bloopers and ran down the list of my numerous crushes. I didn't realize that there had been so many!
Below is a photo of JP as she desecrated my reputation (oh, the humiliation of it!) with the following speech:

I begged Thirdy that I would go first...because I like to start the cooking.
So, hello, good evening. I will now proceed to expunge Ann's dinner, and slowly make the blood rush to her face as I reveal some of the most hilarious moments in her life.
I've known Ann since first year high school. We have been together in a group of eight special sisters for seven years now. Our circle regards her as our very own Baby Annie, Anna Banana, and Ann Guyabano.
We are very possessive of our baby sis but, no matter how vigilant we are, she always manages to get herself into pretty embarrassing scrapes. To tell you a bit of her scrapes is to tell you three of her admirable traits. She is a good sport...a convincing actress...and a multi-lingual person.
JP as she brought up my past humiliating experiences
Let me explain. Ann is a good sport. Gusty, feisty, and daring in life, laughter, and love. Ann was an aggressive player in the game of romance. Or, rather, in the search for romance. You see, Ann only looked -- and chased! -- but never committed. There was *John, elementary sweetheart...Alan, first year high school interest...Justin, the writer...Peter, the orator...Jake, the Atenean...Mark, the would-be pastor...James, the manager...Carlos, the reporter...and Ron, who was gay...and Darren, who was the boyfriend of Ron. And, of course, Robert, my cousin. What a collection, don't you think?
And, of course, there was the English classmate. Broad-shouldered, strong jaw, with soulful eyes...the name was Lance. Brooding intellectual. Ann and I would follow him right after class and make sure to get on the same jeep as he. But her interest waned when we found out he did not know how to spell -- and had a pregnant wife.
Heiress and I once bribed her to ride the kiddie choo-choo train at SM Glico's so we could talk to the operator, who happened to be a hunk.
Ann's theatrical skills are award winning. (I'm going to love this.) A few months ago, we went dancing at Club Boracay. She and her partner were waxing the dance floor when right in the middle of a triple turn she stopped and did this -- " JP held her forehead with one hand and pressed against her stomach with her other hand as though she were in pain. "Of course, I was very alarmed. Her partner led her back to the table and I stood up. 'Ann, shall I get you aspirin? Shall I get you antacids?' And then she goes, 'JP, come with me to the bathroom.' Her partner goes, 'Ann, I'll come with you.' 'No! You stay!' When we got to the bathroom, it seems that a piece of clothing was out of position. To put it bluntly, she said, 'JP -- my strapless bra is down to my waist!'
You will be impressed at how multi-lingual Ann is. When asked to translate 'I broke my ankle' into Ilonggo, she replied, 'Nabuka ang paa ko.'
Her slips with Ilonggo have earned her a nickname from my high school classmates. 'The Tubig Girl.' In high school, Ann was never without a water bottle and my classmates relied on her for 'tubig.' Now, understand that our Baby Annie was a bit pudgy then, and sensitive about it. One time, a classmate yelled at Ann, 'Ann! Tubig! Tubig! Tubig!' She got very indignant. Slinging her water container over her shoulder, she looked at our classmate squarely in the eye and said, 'I may be fat...but I'm not too big!'
These are just a few of the happenings that make Ann's company so enjoyable. And these, combined with her humor, patience, understanding, and selflessness, make Ann's friendship so precious and important to me, and to the countless other people who have the pleasure and the privilege of calling Ann a friend. Our Baby Annie is now a lady. Happy birthday.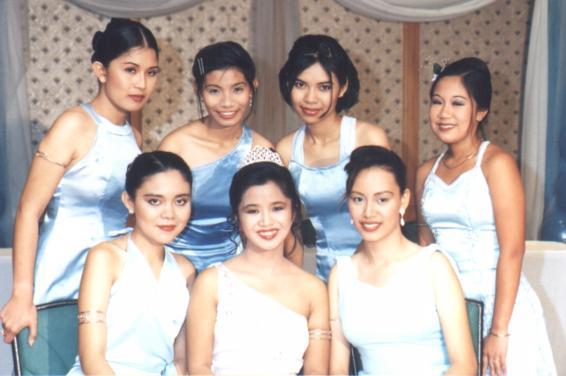 Veron, Jen, Heiress, Edalynn, JP, me, and Grace.
Intermission - As atonement or a peace offering after my being roasted on the spit, all the girls in my cotillion court danced to All Saints' "Lady Marmalade." (Voulez-vous couchez avec moi c'est soir?)
Roasting - Thirdy charred me but good. He told everyone about my being gullible, religious, and Leonardo-crazy. They laughed and laughed.
The following is his culinary effort. I did my best to piece it together from the video documentation of my debut, but a part of it was cut.
If I were to write everything about our lovely debutante, I'd probably end up with a book with the potential to outsell India's Kama Sutra. Tempting, but no thanks.
Ann and I have known each other since high school. We were often classmates, both writers of our school paper, often traveling to different places defending the good name of our publication. And -- dare I say it? -- we were both members of the choir.
We were even dance partners and danced the tango for our PE practical exam. We ended up with a grade of 89, which I think was a pretty respectable grade.
Thirdy as he roasted me
...she conducted the anthem so many times, she became the high school's official conductor of the Philippine national anthem -- which was pretty ironic because, back then, being a Fil-Am citizen, she couldn't understand a word of Filipino!
Another thing about Ann, which I'm sure everyone knows about, is her Catholic devotion. As a church reader at St. Maria, Ann attends two Masses a week, sometimes even more. One day I was so sick and tired I approached her and said, 'Ann, will you quit it? You're making the rest of us look bad!'
One thing Ann will never be, though, in my opinion, is a businesswoman. You see, my mom, JP, and I accompanied Ann to see the person in charge of tonight's decorations and my mom was trying to get the person to lower down his service charge. When he finally did, Ann was so shocked at the low price, she said without thinking, 'Wow, really? You know, I could give you one thousand pesos more.'
To say that Ann is a Leonardo DiCaprio fan is an understatement. Fact is, she's nuts about the guy. So nuts, in fact, that she wrote him a letter. I wonder if she ever got the courage to mail it. So nuts, in fact, that she has her very own Leonardo shrine in her bedroom closet to which she pays tribute to every night, I'm sure. And morning! So nuts, in fact, that she named both her pet dogs Leo and Jack, as in Jack Dawson from Titanic. Talk about cruelty to animals! These poor dogs will have to live with their names for the rest of their lives. And how long is that in dog years?
Ann belongs to a barkada whose members, including Ann, for a reason I am still unable to grasp, seem attracted to employees of fast-food places. So it is only logical to think you'd have to be working in a fast-food place to win Ann over. Oh, by the way -- Dunkin Donut employees are , of course, disqualified.
So, Ann, are you roasted yet? Perhaps just slightly toasted. Maybe you're still cold and impenetrable -- kind of like your peach mango float.
Whatever the case, happy birthday.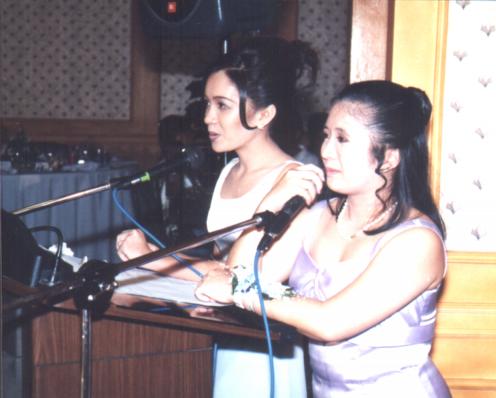 The emcees -- Eloise and Joy.
Lala's ad lib - Lala (the girl on the left in cream and blue) needed to fill in the time while the cotillion girls were still changing back into their gowns. This is what she had to say:
Are the ladies of the cotillion here? They're not here? They're still upstairs? Oh, okay. So, since they're not here...now's my chance to stall you guys.
I was Ann's friends since elementary. We went to St. Joseph together, then we went to West. We were very close in elementary, but then in high school we kind of separated -- different groups and all that.
Ann had this terrible crush sa pinaka-alam in the class. His name was John. I believe JP mentioned him earlier. Well, you see, Ann had been in St. Joseph when she was in kindergarten. She went back to the States, then she came back when she was in grade 4. My goodness, I'm telling you, she was so sexy. Grabe. She had this long hair and then John would drool over her.
Well, anyway, Ann and John used to be really, really teased. John's ears would burn bright red and Ann would...I could see her blush. Although John's ears would be like the most visible red things. But Ann would get really violent. Any attention she gets from the class, she really gets violent.
Anyway, one time, I remember the Boy Scouts -- remember the Boy Scouts, Ann? The Boy Scouts were used to taking the bags from the classmates, especially girls and their teachers. One time, Ann was coming to school with this enormous bag of hers and then the guys were trying to help her. But you know what she did? Ann would just bust them all away like she's some kind of a she-woman or something. She thinks she can handle it. But that's Ann. She gets very violent sometimes.
She came back when she was in grade 6. She was very big. She was very, very fat. And she would be very, very conscious about it. And she spent her entire high school life worrying about it. Well, look at her now. Beautiful, sexy...well, what can you say?
18 Candles - My poor cousin Elton, only five years old, had to hold the mother candle for the girls as each of them made a wish for me. I couldn't understand why he was so impatient ("Are we almost done? Can I put the candle down now?"). It turns out that he needed to pee the whole time. But he held on for me!
The procedure went like this:
First, each girl would light her candle from the mother candle being held by Elton. Second, she would state her wish for me. After all the girls were done, they would use their candles to light the candles on the cake (as shown in the picture on the left).
Then comes the hard part for me. I had to blow out all the candles on cake, then each of the girls' candles, and finally the mother candle. Whew!
My favorite wish is the one made by my sister (yes, I'm biased!):
"I wish you would fulfill your dream of being some world famous anchorwoman. So when you meet Leonardo DiCaprio and Prince William...make sure you call on us, okay?"
Background music: Jennifer Love Hewitt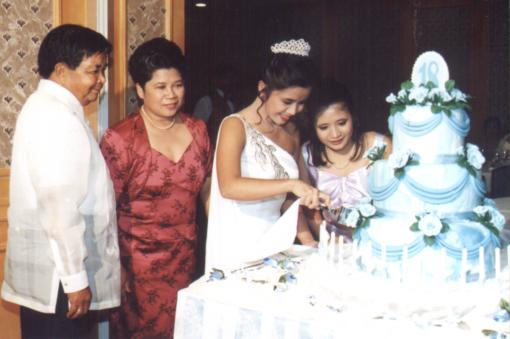 Toast to the Debutante - by my dad

Slicing of the Cake (as shown in the picture above)

Parents' Dance - Mom and Dad danced to Boyz II Men's "I'll Make Love to You." They're still a romantic couple.

Honoring - Veron and Heiress read aloud a poem they'd written themselves. They entitled it "Ann."
Ann

The birds stop their singing
The roses lose their hue
When there is someone
as beautiful as you.
A friend so very rare,
so gentle and so dear.
A friend who's there to care
to comfort and to cheer.
Ann's a precious lady
A princess to our sight.
Sweet perfume to the senses
To our path, she's the light.
Through all those years
She's been a faithful friend
She'll listen to our sorrows
helping hands she'll lend
Ann, may your joys be plenty
and as deep as oceans flow.
May your life be full of laughter
and may your face always glow.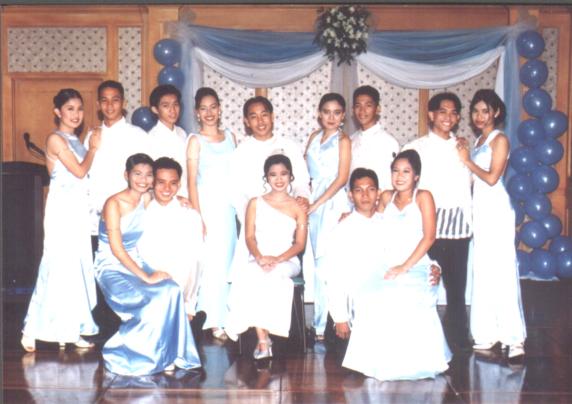 Honoring/Intermission - My escort Loven (with a little assistance from his best friend and another guitarist) serenaded me with my top five songs. He introduced each song with why it was meaningful to me.
5. For the First Time
4. I'd Really Love to See You Tonight
3. It Might Be You
2. Iris
1. More Than Words
To cap it off, he sang "I'll Always Love You" by Michael Johnson.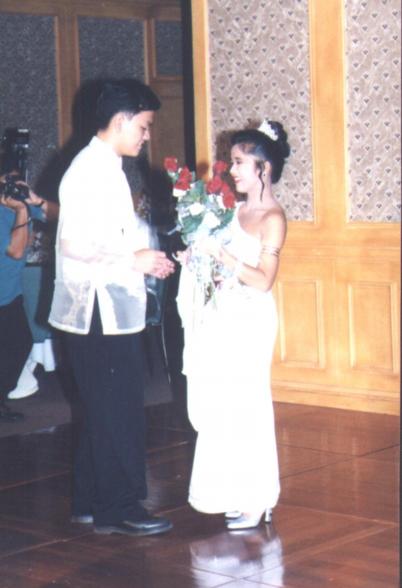 Words from the Debutante - I couldn't think after that! That's my only excuse for keeping my speech so short. I basically thanked everyone in general, and told my family how much I loved them.

Cotillion - We danced the rumba to Lauren Wood's "Fallen" (from the movie "Pretty Woman"). Everyone loved it. (I can't believe it, you're a dream comin' true. I can't believe how I have fallen for you....)

18 Roses - Instead of just white roses, my godmother tied one white rose and one red rose together. So I had 18 pairs of roses. First my dad, of course, then all the guys I was close to. As you can see in the picture, I've forgiven Thirdy for everything he said in his speech.

Finale - The cotillion court danced the reggae to the Beach Boys' "Kokomo." (Aruba, Jamaica, ooh I wanna take ya to Bermuda, Bahama, c'mon pretty mama, Key Largo, Montego, baby why don't we go down to Kokomo...We'll get there fast and then we'll take it slow. That's where we wanna go way down in Kokomo....)
I had the best-looking cotillion court around!

Disco - We danced until nearly one in the morning. It was just so much fun. Elton insisted on dancing with me for as long as his little legs could stand it. How could anyone fight off my adorable five-year-old cousin?

Anyway, that's basically everything. My debut was unconventionally traditional -- very different. And we all had a great time.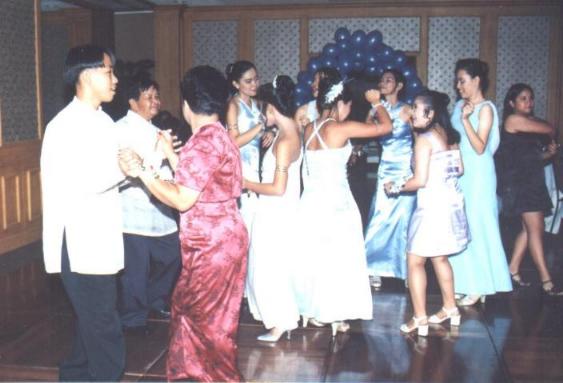 Heartfelt appreciation to:
Auntie Mary Ann for the lovely invitations;
JP for coordinating the affair (the sleepless nights were worth it!);
Ninang Ikit and Su-on Liza for the giveaways;
Dalynn for the beautiful balloon arch;
Ma'am Porras for the choreography and training;
Members of the cotillion court for their time, effort, and dancing skills;
Tito Howie, through Auntie Leila, for the photography and video documentation;
Tita Merna for her valuable time and advice;
Thirdy for chauffeuring and roasting;
Loven for being an attentive escort and for the serenade;
Grandma Erding, Auntie Toto, and Ninang Lolit for the financial support;
Elton for his patience and exceptional bladder control;
And, finally, my mom and sister for coming home for this occasion.

* Some names have been changed for the sake of privacy.