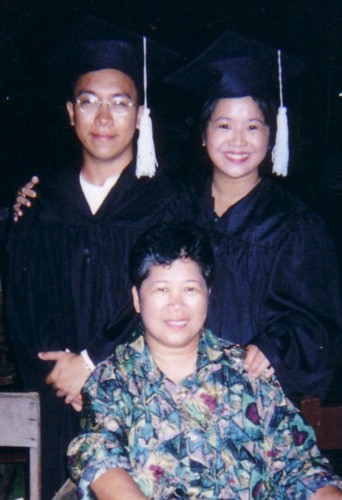 After our graduation on March 25, 2001, Mom decided she wanted to take Ferdie and me to Palawan. It's somewhere we've never been before. We went to a travel agancy to inquire about it.
Dreamscape Travel Agency
3rd floor - The Atrium
Iloilo City

Next thing we knew they had arranged everything and we were preparing to leave on a plane for Puerto Princessa.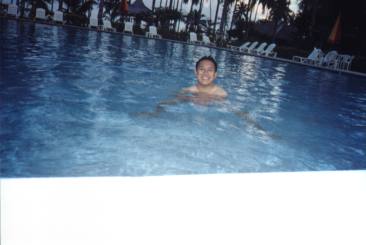 On March 30, we did our last-minute packing. Mom cooked rib-eye steaks for us. What better occasion to eat well? Hehehehe.... We took Philippine Airlines to Puerto Princessa, Palawan. We arrived in 45 minutes, and a representative from the Princessa Holiday Resort met us. We were driven in an airconditioned van to the resort, which was about an hour or two away in Brgy. Tigman, Aborlan, South Palawan. I can't really estimate the time, as I slept most of the way.


The first thing we did when we got to the resort was unpack. First things first, after all. Get chores out of the way.

As you can see from the picture above, Ferdie couldn't resist the pool. He went for a quick dip before dinner. Evening is the best time for a swim, because the water retains all the heat is has absorbed during the day. Who needs a hot tub?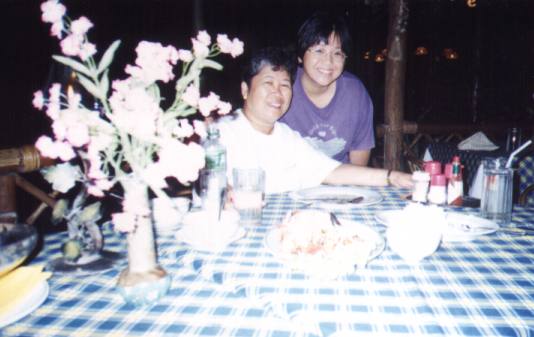 We had a fabulous dinner that first night. Now I can't exactly remember what I had, but I remember it was delicious. This shot was taken right after we'd eaten. Hope you can see what's left of Mom's lobster. It was one of the innumerable times I wished I could enjoy seafood.

After dinner, we went back to our room. It was in a little bungalow next to the pool. Mom had decided to get the superior room instead of the standard room. It had one queen-sized bed and two twin beds, a ceiling fan, air conditioning, and a refrigerator. Pretty decent accommodations.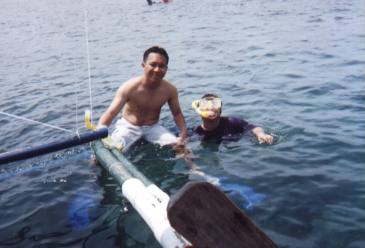 We woke up very early the next morning. A rare occurrence for me. Mom had woken up even earlier and watched the sunrise. Ferdie and I later caught up with her. We jogged along the beach for a while (again, another rare occurrence for me) and then waded a bit. The beach was so beautiful. I'd never seen one so clean. I think people would be ashamed to litter because they'd be the first ones.

We agreed to let some of the resort staff take us on an island-hopping tour. At first, it was going to be just us three, but at the last minute two girls (one Korean and one Filipina) decided to join us.

We got into a boat (I think it's called a "pump-boat") and rode off to the first island. We dropped off some of our things there, like the packed lunch and other stuff.

Ferdie tried snorkeling for the first time. It was the second time for me, since I'd tried it several years ago in Boracay (and nearly drowned). Too bad we didn't have an underwater camera. The corals were beautiful and some of the fish glowed with blue light.

Mom didn't want to go snorkeling, so one of the hotel staff guys dived down and brought up a blue starfish for her. Now wasn't that nice?
Time for lunch! Our appetites were raging after all the exercise. Our tour guides went and got us some fresh buko and papaya. As you can see in the picture, Mom looooooves her buko! She couldn't finish all the buko juice, so she saved what she could in empty water bottles to enjoy later.
Ferdie took a little nap, in fact, we all rested. Then it was time to continue our tour. We snorkeled some more and visited another island. But then it started raining. Since we didn't want a re-enactment of "The Perfect Storm," we snorkeled one last time -- Mom gave it a go -- then went back to the resort. The rain chilled us, so we went for a swim in the warm pool.

The next day we didn't do much except relax and enjoy the peace and quiet. We walked along the beach, gathered shells, and basically just bummed around. Mom read "A Walk to Remember" by Nicholas Sparks and, as expected, cried her eyes out.

We had a late lunch and ate so much we didn't have any appetite left for dinner. We did, however, stay at the restaurant just talking for several hours. Finally, Mom went back to the room while Ferdie challenged some guys to a game of billiards and I embarrassed myself at the karaoke bar.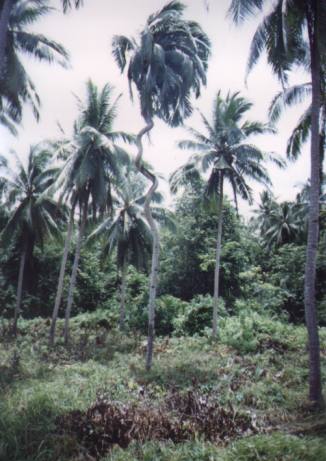 The next day it was time to leave. We didn't want to -- we had such a great time. We took one last swim at the beach (which, by the way, did wonders for my skin), and then packed up our things.

The resort provided a van for us to go back to Puerto Princessa city. The guy driving would stop every so often to point out interesting sights along the way. This picture at the left is the best one. A very unusual coconut tree with a crooked trunk. I wonder how it managed to be that way. Did someone twist it a couple of times while it was a sapling?

We arrived at the Princessa Holiday Resort's main office. While Mom paid the bill at the second floor, Ferdie and I checked out the souvenir shop on the first floor. I found some nice "floating necklaces." I got a set for my sister and a necklace for me. I also bought cashew nuts -- yummy. Ferdie started his collection of souvenir sea shells.

The shop owner seemed like a really nice guy. He offered us a discount on our next visit -- on the condition he gets to see Mom in a bikini. Ha! Ain't never gonna happen!
We stopped for lunch at the restaurant pictured at the right. It just so happened that the resort owner was also there. We were able to talk to her and tell her about our stay and what we thought of her resort.

We had our last delicious meal. Inevitably, it was time to go to the airport. We took some pictures at the Puerto Princessa airport. Unfortunately, not all of them came out, so I haven't posted any here.

Now we're back home. All we can do now is look at our photos, hold our seashells, and remember how much we enjoyed our little vacation. We'll come back soon!