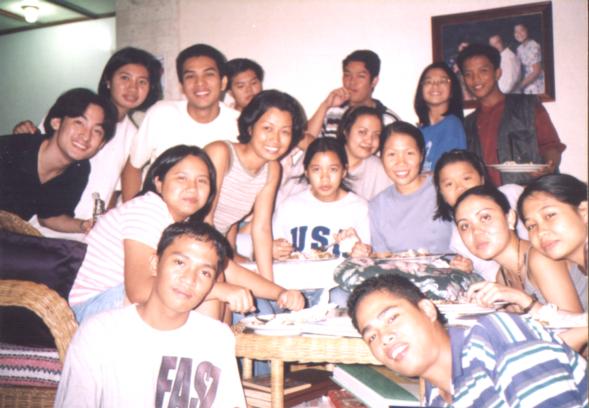 The Teatro, Sining, atbp. is a theater group in Central Philippine University (CPU). It started in April 1997 when CPU Acting President Juanito M. Acanto requested Mrs. Regina Ilagan-Pagunsan to form a theater guild for cultural upliftment in, as well as out of, CPU.


Auditions and screenings were held to determine who would become members of the group, which was later named Teatro, Sining, atbp. from the original CPU Theater Guild. Workshops were facilitated to train the Teatro members in acting techniques and play production.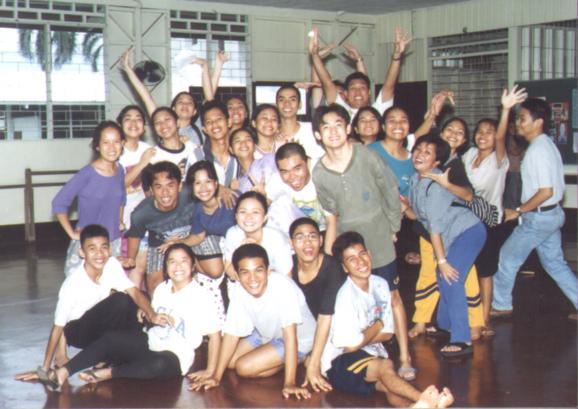 Since then, the Teatro has presented several shows (both in and out of CPU), joined contests, and performed in CPU programs.

Its first major production was on December 9-11, 1998. Two one-act plays were staged: "Candelaria" written by Loven Ramos (a Teatro member) and directed by Joan Paulette Mary Libo-on (a Teatro member) and "Maria Julianita" written by Chris Millado (artistic director for Philippine Educational Theater Association) and directed by Mrs. Regina I. Pagunsan (CPU faculty member, Teatro adviser). The production was presented at the Educational Media Center, 2nd floor Dining Hall, Central Philippine University, Jaro, Iloilo City.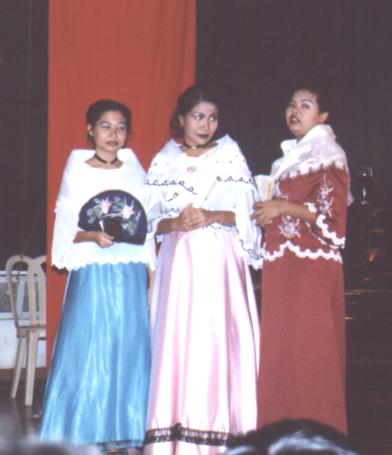 "Candelaria" is a one-act Hiligaynon play set during the period when Spain ruled the Philippines. It told the story of Candelaria, a young woman who was being forced to marry a wealthy Spanish don instead of her true love.
"Maria Julianita" is a one-act Tagalog play about Itang, a woman constantly abused by her husband. Confused, she imagines different scenarios to draw out her inner strength. Itang slowly realizes that if she wants to save herself from her situation, then she must learn to stand up for herself and not be afraid to seek the help of others.

Mrs. Corazon P. Kabayao, president of the Arts Council of Iloilo Foundation, Inc. (ACIFI)attended the Teatro's first production. One month later, she sent an invitation for the Teatro to participate in the Festival of Plays to be sponsored by the ACIFI for February 1999. Several theater groups from all over Iloilo City would be participating with their productions.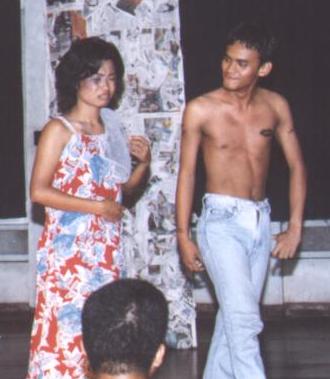 The Teatro decided to perform "Maria Julianita" once more and "The Case of the Crushed Petunias" written by Tennessee Williams and directed by Joan Paulette Mary Libo-on, instead of "Candelaria."

"The Case of the Crushed Petunias" is about Dorothy Simple, a New England maiden who has barricaded her house and her heart behind a double row of petunias. The one day, a Young Man comes along not only to crush her petunias but also to charm and challenge her into learning how to live life to its fullest.


FURTHER CREDITS
* (1997) sponsored Photo Exhibit of Neil Daza at the CPU Educational Media Center
* (1997) conducted Teachers Training Workshop at CPU Educational Media Center
* (January 1998) won 2nd and 3rd places in Palpakpalakpak (Comedy Skit) Contest, Dinagyang '98, at the Rotary Amphitheater.
* (1998) conducted Acting Workshop at the Iloilo High School for the Arts
* (October 1998) facilitated Acting Workshop at Iloilo State College of Fisheries, Barotac Nuevo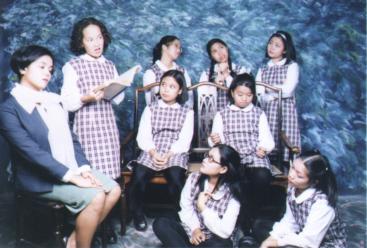 * (1999) won 1st place in the Lip Synch contest during the CPUR (CPU Republic) Week
* (1999) named Most Outstanding Organization by the CPUR
* (February 1999) participated in Harvest 1999
* (summer 1999) participated in outreach program for St. Joseph Church by performing "Maria Julianita"
* (June-July 1999) participated in Stefan Tsanev's "The Other Death of Joan of Arc" at University of San Agustin
* (September 1999) participated in Ilonggo writers' "Panglakaton Blues" (a full length Poetry in
Motion)
* (December 1999) participated in T.S. Eliot's "Murder in the Cathedral" at University of the Philippines in the Visayas
* (February 2000) produced "The Loudest Whisper" (based on Lillian Hellman's "The Children's Hour") at West Visayas State University
* (summer 2000) conducted summer acting workshop with Iloilo Theater Company
* (July 2000) participated in "Panayanon" The Epics of Panay at the University of San Agustin
* (July 2000) participated in Harvest 2000